Memorial Bench Placed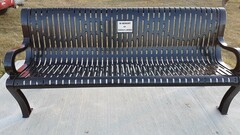 The Beautification Committee has finally received and installed a new bench, that was placed in memory of Harold Larsen who passed away in October 2010. 
He was a very active member of the Whitecourt District Agricultural Society and is well known for his hard work, dedication and his kind heart. A photo of Harold still hangs in the office for the 2008 sod turning ceremony for the rodeo grounds. 
Mr. Larsen's bench oversees the playground, facing north. A fitting place where one can watch the children laugh and play during the day and watch the northern lights in the evening.