Beautification Committee News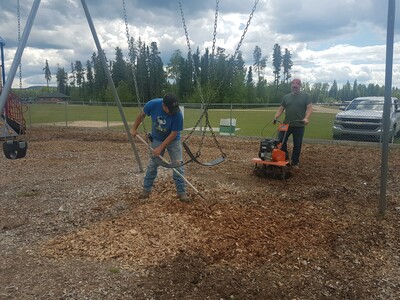 The Beautification committee got together over the weekend to do a few projects. The playground wood chips were rotor-tilled and fluffed up. Bare spots were filled with more chips. Tires were added underneath the seesaw to absorb the impact better than the hard ground. 
The sandbox was also fluffed up by the rotor-tiller. 
The beautification committee has also brought in 8 more waste and recycling bins that will be replacing more of the old barrels that were originally used in four locations which will include the backside of the playground, the front of the hall,  the outdoor riding arena and by the rodeo grounds.
Flowers have been added to the front of the hall brightening up the hall frontage.
Wondering how to join the committee?
Contact Sharlene at the hall 780-779-4343 or by cell at 780-778-0773.
You can also email her at wctagsoc@gmail.com.